Need a Summer Vacation Spot? Try Watkins Glen
If you are looking for a new vacation spot this year that's not as repetitive or as hot as the beach, then head north to the Finger Lakes in New York! My family and I usually go to the beach every summer, but we were beginning to grow tired of doing the same things every year and the heat that never went away. Instead, my family allowed me to pick a place to travel last year. At first, I looked at northern beaches; however, that idea passed quickly when I realized how long the travel times were--my grandparents aren't exactly suited for that. I stumbled across the Finger Lakes in looking for anywhere to vacation that was north of Pennsylvania, and it seemed like the perfect fit. Neither my grandparents nor I had ever been there, and there were an abundance of things to do.
We chose to stay in Watkins Glen because it isn't a city like nearby Ithaca, but it has more of a homey feeling to it. Also, there is a nice campground right outside of the town where we stayed that had a mini golf course, indoor pool, and several other activities. Truly, we did countless things, and I don't recall ever being that tired after a "vacation." One day, we took a boat cruise on Lake Seneca, visited a winery (that had dogs that greeted you at the door!) with the best views, and ate at a restaurant in town.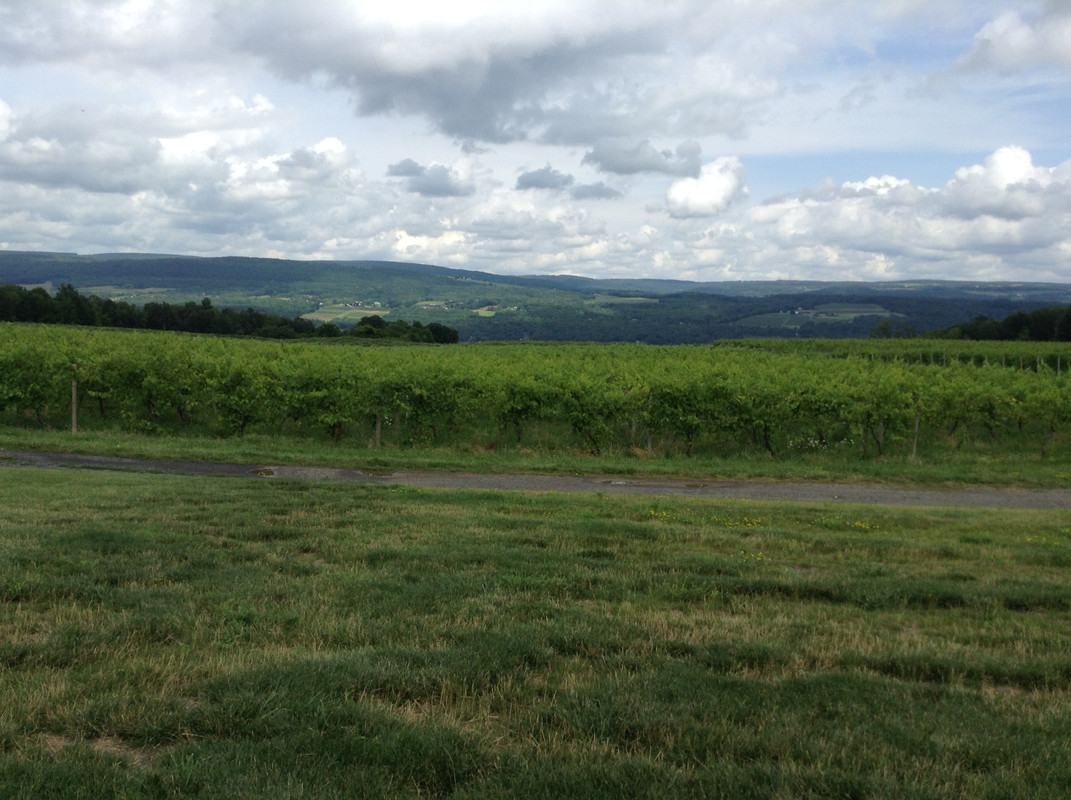 View from the winery
There was one day that we spent primarily in Ithaca, a city about 45 minutes from Watkins Glen. That morning, we visited Taughannock Falls, the highest waterfall in New York, exceeding the height of even Niagara Falls. For lunch, we went to the Ithaca Bakery, which has really good coffee and desserts. Following that, we went to the Sciencenter to play the nerdiest game of mini golf to ever exist--each hole is based on a different scientific law or theory. Later that evening, we ate at a restaurant overlooking Lake Cayuga where I ate the best shrimp and grits known to man. On one of the (very hot) days that we were in New York, we returned to Ithaca to tour the Cornell Botanical Gardens, which sounds really boring; however, their flower gardens are absolutely stunning. There was also one day that we traveled to Corning, another city near Watkins Glen, to visit the Corning Museum of Glass. The museum mostly consisted of glass sculptures of all kinds that had very intricate details. We were also able to watch glass-blowing demonstrations to see how glass is made.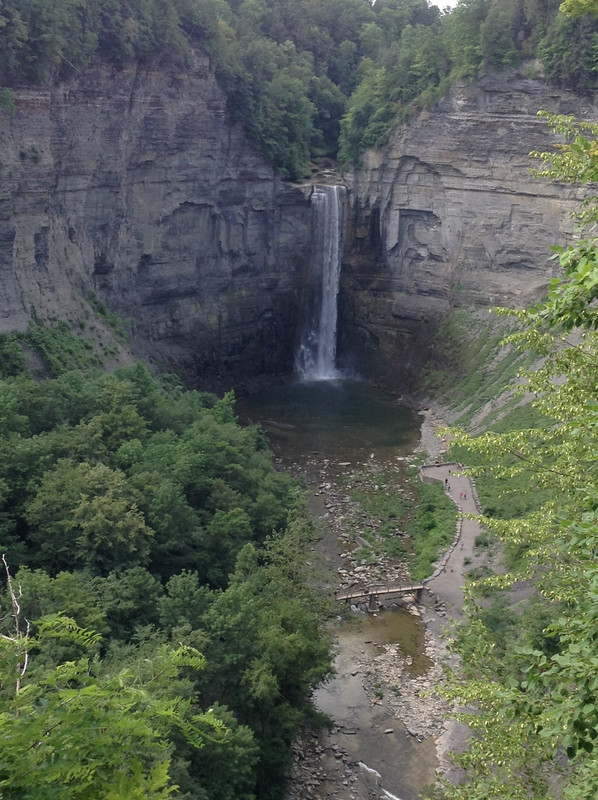 Taughannock Falls

Back in Watkins Glen, there aren't an endless number of things to do. One thing that we did find was a delicious Italian restaurant right in town. Also, right as you're leaving town, there's a bright yellow ice cream shop. It's rather small inside, but with the combination of frozen yogurt, sherbets, soft serves, and hand-dipped ice creams, the shop has to have over 40 flavors to offer. Also, they offer a 'Sampler'--a container with four different spots if you can't decide which flavor you want. Naturally, my friend and I each got one and ended up splitting them, allowing us each to try eight new ice cream flavors!
Honestly, though, my absolute favorite thing that we did was walk on the Gorge Trail in Watkins Glen State Park. You end up walking down hundreds of steps on a trail that's about two miles long, but it is worth it. The sights and sounds are incredible. You pass upwards of twenty waterfalls, each one seemingly larger than the previous, and the crashing of the water is sometimes enough to drown out all of your thoughts. The trail is carved out of stone and has no railing (except for on the bridges). There are two places on the trail where you pass under water that's running off from the tops of the cliffs that you've been following the entire time. For these two miles, you are not observing nature, for you are part of nature. If I could make visiting the gorge a yearly trip, I would, because I can never see myself getting tired of everything it has to offer.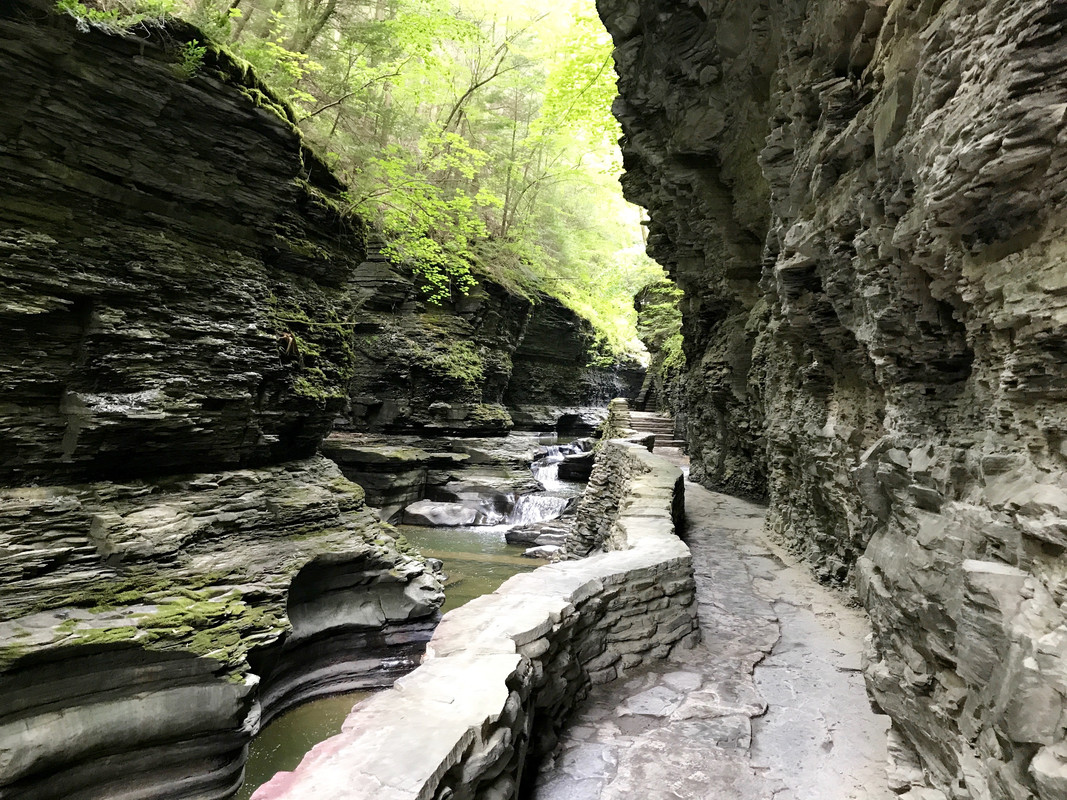 Gorge Trail, Watkins Glen State Park

Visiting Watkins Glen was a lot of fun, and I made a lot of memories, especially because of the people I travelled with. I did a few things I never had before and tried some new foods (which is odd, because Watkins Glen and the Finger Lakes aren't exactly areas that are culturally different than central Pennsylvania). Ultimately, this trip is one I'll remember for a long time to come, and I recommend this area as a travel spot for all ages.
*Check out the video for behind-the-falls action!